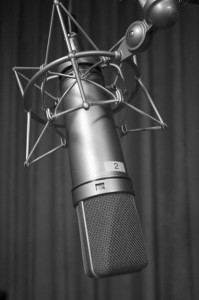 Photo by Tanki. Licensed by Creative Commons.
About once a month between 1989 and 2008 I wrote and recorded short essays for National Public Radio–initially Performance Today, then Morning Edition, and finally, for a decade and a half, for Sunday Weekend Edition.
This run ended when my friend and producer Bob Malesky retired and his successor decided to cut out the reflective, sometimes funny, sometimes serious essay, the genre that had been my playground–and, I would suggest, part of the identity of National Public Radio.
I've decided to bring that genre back. So, with a grateful nod to Bob Malesky and those NPR days, I'm going to publish a short essay as often as I can.
Some of them will be original; some (kind of like A Prairie Home Companion) will be pieces that aired previously, have been rescued from a file originally created on an IBM PCjr and have had 338 lines of weird formatting removed. (Seriously, how can an apostrophe be represented by seven keystrokes, including characters from Old Norse?) And if I can swing it, some will even come accompanied with audio clips, so once again people can recognize my voice and ask, "Aren't you that British guy from public radio?" All will be archived here, with whatever information I have on when they were posted on the web, and when they were originally written or aired.
Click on the title of the essay to retrieve it from the archive.
Counting Crows (July 17, 2011)
Croaking by numbers
When Eating Was a Contact Sport (November 28, 2010)
Days of epic gluttony
The Things She Knows (November 18, 2010)
How do our children learn so much? How do we learn from them?
Extreme Old Guy (November 12, 2010)
A man, his daughter, and a hovercraft.
Egypt Diary (May 16-June 28, 2010)
Everything you've been told about Egypt is wrong.
Three Wife Day (May 8, 2010)
How many wives can a man survive in a single day?
Mortise and Tenon (May 1, 2010)
If I can carve the Endangered Alphabets, there's hope for everyone.
Moving On (April 25, 2010)
Yet also moving backwards through time.
Evenings and Weekends (April 11, 2010)
What has email done to our sense of home?
The Sound of Scraping Toast (April 4, 2010)
The Age of Imperfect Inventions
The Ghosts of Good Intentions (March 28, 2010)
Houses are centrifugal–hence everything you find on windowsills.
Communism: My Part in Its Downfall (February 14-March 21)
Don't start the Velvet Revolution without me…. This series, set in Prague in 1989, presents a first-hand look at vast, exciting, momentous changes in which your author played a tiny, timid, accidental part.
Culture or Bust (February 7, 2010)
Yet another season of Masterpiece Theatre. Or is it?
A Winter's (Horror) Tale (January 31, 2010)
The worst of times.
Going Postal in Cairo (January 24, 2010)
Egypt is not all camels, hucksters and big pointy stone things.
The Camel's Ass (January 17, 2010)
Adventures at the Pyramids.
Farewell.jpg (January 10, 2010)
One photograph.
Year of the Durian (Sunday, January 3, 2010)
Start the year off right–with the world's smelliest fruit.