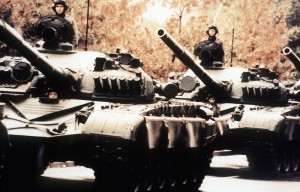 Photo: Wikimedia Commons
In November 1989 I got a phone call from a woman named Marcela. I knew her only as the wife of an artist I had interviewed a couple of times. She told me that she had been born in Czechoslovakia, but had fled the country after the failed Prague Spring uprising in 1968. Now, with Communism under threat all across Eastern Europe, she was going back. She made me an offer I couldn't turn down: if I helped her write about her return to Prague, she'd act as my translator and help me get stories of my own. Oh, and could I bring as many blank videocassettes as I could carry? Which was how I found myself on Tuesday, December 5, on the southbound Montrealer heading for New York, then points east.
1
On the train I read John Reed's book Ten Days That Shook The World, his eyewitness account of the Russian Revolution. "This is just a sample of the confused events of those feverish days," he wrote, "when everybody knew that something was going to happen, but nobody knew just what."
I put down the book and found myself wondering What color is history?
What I asked myself what I expected to find in Prague, I discovered I was imagining that everything would be in black and white, like Vienna in The Third Man, as if history was a charcoal-gray commodity that rubs off on people when they come in contact with it. All that week, the television had been showing wire service photos of rallies and beatings on the streets, which in turn reminded me of the monochrome faux-newsreel footage inserted into The Incredible Lightness of Being to dramatize the Russian invasion in 1968. It struck me that gray gives gravity, even grimness, to events: it makes us take them seriously. History wears gray when it arrives at the breakfast table, and especially if the newspaper is the Times history rubs off on us too, though we can always wash our hands of it.
Several days later, I would mention this idea to the NPR reporter Sylvia Poggioli.
"I see what you mean," she said, "but some of those places really are gray. Prague is beautiful, but East Berlin is gray. Poland is very gray. Rows of abandoned buildings. Pollution. Romania is incredibly gray."
I wasn't on staff at any news organization that would pay me to go to Czechoslovakia; I'd never done any political reporting; I'd never been a foreign correspondent; I'd never filed stories from what might turn out to be a war zone. My sense of looming incompetence had not been eased by the process of applying for a visa—a process that involved dealing with the very bureaucracy that had made Franz Kafka a household name. My travel agent gave me two different application forms.
"I don't know which one they're using at the moment," she said.
"I'll send them both," I said.
Just to be sure, I called the Czech Embassy.
"Yez," the Press Attache answered, in the resigned tone of a man who has spent that past fifteen years with a truck parked on his foot. I explained that I was an international journalist, and that I needed to get a visa by return post.
"Iz possible," he said.
Crossing my fingers, I sent off my passport, $34 and both forms. By return mail I got a form letter with the information that I owed them another $34 with the cryptic explanation DOUBLE BRITISCH. The Czechs were clearly still mad at us for giving Hitler the Sudentenland in 1938. I sent more money.
When the package turned up with one day to spare, it became clear that Chamberlain's cowardice at Munich was not to blame: my passport contained two visas, one for each completed version of the form.
By then I'd had time to start asking people for advice.
"Wear sneakers," growled the veteran journalist Ham Davis. "Secure your lines of communication."
The sneakers were the easy part. The communication was a bit tougher.
"Can you feed sound?" asked my editor at NPR.
I resisted the urge to ask him what it ate, knowing my credibility hung by a hair. A wire.
"Have you got alligator clips?" he went on.
Thinking very fast, I gathered that these clips somehow allowed one to send recorded sounds (called "actualities" in the radio trade) straight into a phone line, and thus back to Washington, D.C.
"I'll see what I can do," I answered, trying to sound tough and resourceful.
I did, in fact, have a plan. Somewhere in Prague right now was a contingent from NPR News, who doubtless fed sound and clipped alligators every day of their lives. I pictured them traveling with alarmingly long boom mikes capped with comforting wind-muffs in one hand, and vast tape-recorders with a galaxy of dials in the other, their pockets stuffed with alligator clips. I would find them in Prague. They would save me.
My plane touched down late in Amsterdam. I fled across the airport and leaped into the connecting flight to Vienna, where I discovered that my bag was still back in Amsterdam. My bag contained not only all my clothes and the dozen black videocassettes I'd bought, but more importantly the portable computer the Rutland Herald had lent me, a TRS-80 that weighed as much as an armored car and had a letterbox screen that displayed up to six lines of text. I slumped in a chair. Should I catch the train to Prague, as planned, or wait for my bag, which would mean losing an entire day of my scheduled week in Czechoslovakia? Over my head, a TV monitor showed "Battle of the Monster Trucks."
Feeling increasingly worthless, I went down to the underground train that would take me into Vienna—if I could only figure out the timetable. My high school German abandoned me. What the hell was the word for "platform"? Not knowing which trains went in which direction, I stood a 50-50 chance of ending up in, say, Sicily.
And it was at that point, after dithering for a good twenty minutes as trains pulled in and left this way and that, when I learned one of the most valuable lessons of my life. What I was experiencing, I realized, was a Border Moment. It wasn't that I was a hopeless incompetent; it was that I was about to cross from the familiar to the unfamiliar. You'll always be able to go back, I thought, but you may never again be able to go on.
I don't think of myself as a brave person, but occasionally I get sick of my own cowardice. I got KLM to promise to forward my bag to Prague when it arrived. I went up to strangers until I found one who spoke English. I discovered that the Austrian for "platform" is not the same as the German for "platform," so it wasn't surprising I hadn't known it. I took the train into Vienna, bought a ticket for Prague, and as daylight faded and the train grew emptier at every small, rural station, I approached the Iron Curtain.
2
The closer the train got to the Czech border, the flatter and more Eastern European the countryside became: fields of cabbages, fields of turnips, fields of mines.
The train was cold, but that wasn't why I was shivering. I was all too aware that in my small knapsack I had recording equipment, tapes, no fewer than 24 AA batteries…. For all I knew, I could be arrested for just the batteries. I stopped writing in my journal, for fear anything I said would be held against me.
Dusk was falling as the train slowed again—and this time I saw what I had been expecting for the past hour. On both sides of the track, watchtowers and machine-gun emplacements stretched away as far as I could see, their silhouettes dark and sinister against the violet sky.
On the ground, though, was nothing military of any kind. No tanks. No squads of soldiers with motorbikes and sidecars. No guns trained on the train. No dogs with their handlers pacing along the train, sniffing out stowaways, explosives, sweaty writers claiming to represent NPR. Within the past twelve hours, the Iron Curtain had been rolled up and taken away.
In its place, a polite, uniformed young man with the can-I-help demeanor of an Eagle Scout examined my papers but didn't even search my bag, or ask why I had no other luggage, or demand to know with whom I would be staying.
He had barely left my compartment when the train was under way again, and his place was taken by an enthusiastic Czech ticket collector, who wanted to give me my first lesson in his native language. He tried Czech and Russian, I tried English and German, and we both tried sign language. He told me with tremendous urgency either (a) that he would give me one of his eyeballs if I were not going to Prague, or (b) he wanted to exchange my girl. I looked puzzled; he left disappointed.
Mind you, I was just starting to see that I could have done with learning even the slightest amount of Czech before I left. When the train pulled into Tabor, the loudspeaker made a very, very long announcement. The longer it went on, the more I became convinced that it was saying that the last four carriages were about to be uncoupled and pushed over a cliff.
The train reached Prague well after dark. Marcela had said she would meet me at the station, but nobody was there to greet the few passengers who staggered off. When she arrived five or ten minutes later, just as I was starting to get seriously nervous, her first question was  "Did you bring the tapes?"
I must admit, I was surprised and a little annoyed that all she was interested in was blank videotape that some friends of hers needed because of the national shortage. I explained about the missing bag, and she nodded. Then the talk was all about what was going on.
It was now late on Thursday. Civic Forum, the opposition group led by the playwright-philosopher Vaclav Havel, had demanded that Husak, the communist president, dissolve the government and form a new democratic government by Sunday. If he failed to comply, a massive demonstration and general strike had been called for Monday. (Just a few days previously, well over 200,000 people had swarmed in from all over the country, apparently paralyzing the authorities.)  Time, it seemed, was being compressed: each day was growing heavier with a significance of which everyone was aware.
Right outside the station, a student was addressing a knot of perhaps twenty other students carrying lighted candles. A moment later, they gathered and headed off. Marcela called to them, asking where they were going.  "Na hrad!" they called back. To the castle up on the hill, the presidential palace. They were going to "shed some light" on the General Assembly.
That first small encounter set the tone for all the demonstrations I saw over the next week: theatrical, serious yet playful, peaceful yet determined.
A couple of hundred yards further on, in Wenceslas Square, the heart of Prague, another demonstration was taking place, but a demonstration that even now, looking back, strikes me as astonishing, almost dreamlike.
At the head of the square, flanked by shops and hotels, stands the National Museum, across whose classical frontage was draped a huge banner that read, in Czech, "On Strike." Immediately beneath the museum is the great statue of St. Wenceslas, the country's national saint and the Good King Wenceslas of the Christmas carol. The statue was draped with banners and countless examples of the tricolora, the three-colored national flag. Hundreds of posters and sheets of paper with slogans were taped all around the pedestal.
A speaker was addressing the crowd of about a hundred from beneath the hooves of St. Wenceslas' horse. Immediately below this crowd were two smaller groups, one of them avidly discussing the spiritual role of the revolution, the other clustering around a circle of candles, fully fifteen feet across, that had been set on the cobbles, candles on candles on candles, with flowers laid and thrown in among them, as a tribute "to all who had suffered for the past forty years"—in other words, since the country had fallen under Soviet rule following World War II. Every minute or two someone else from the crowd would light another candle and set it down, someone wearing student clothes or working clothes or high fashion. Everyone was talking.
Weaving in and out of these and other groups was an extraordinary procession. A line of students, some of them surely too young to be in college, was holding hands and dancing/running across the city. Those at the head of the line had already gone down a set of steps into a pedestrian subway that crossed under the square, had emerged on the other side and were heading off down a side-street; the tail of the line was still a good fifty yards from the square, and more people were joining all the time. Again, it was a curiously light-hearted, theatrical activity: they seemed to be at a children's party, laughing and trying to yank each other off their feet, yet they wove together all everyone else in the city center.
They were also a sign that the student movement was as responsible as it was energetic. Despite their high spirits, they didn't crash into anyone around them. The students had set up groups that cleaned the streets, Marcela told me, and they did community service as part of the revolution. Many of the posters, she went on, translating some for me, expressed this overarching sense of responsibility, of adulthood. Don't Use Violence, said one. Don't Give Them A Excuse.
Meanwhile, I was struck by the sheer stately beauty of Prague. The only European capital not to have been bombed during World War II, and not to have been overrun with commercial interests and traffic since, it was calm, compact, a city built for pedestrians, an art and architecture gallery all the more striking at night. The cornices, the cobbles, the arches, even the doorways and windows predated the utilitarian adaptations forced on much of the rest of Europe. Later I would vow that, if I ever became a man of leisure, I would return to Prague and spend a month doing nothing but photographing doorways.
At the foot of the square were the Civic Forum offices. In three downtown storefronts, the group had set up banks of television screens, and as we approached some were giving out information about meetings that would never be announced on the state-run media, and some were showing footage of what seemed to be a demonstration.
This, Marcela explained, was an event I'd already heard about: the so-called "massacre" of November 17. A large demonstration had been called, and according to the police and the official newscasters, the students had gone mad and attacked police and passers-by. A Civic Forum sympathizer, though, had managed to capture the whole thing on video. Here were the police, clearly herding demonstrators into a corner; here were thugs with clubs being allowed to pass between the police and start beating the marchers; here were the police refusing to let the demonstrators escape. The video ran constantly, on a loop. People watched it all the way through, then watched it again.
It was this videotape that had been duplicated countless times and was even now being smuggled out of Prague and into the provincial cities, then the small towns. It was this videotape that had precipitated the strikes and demonstrations, including the one that had toppled the huge statue of Stalin. And this was why, Marcela explained, she had asked me to bring blank videotape. It was now officially illegal to sell, buy or carry blank tape, and Civic Forum was sending the word out to anyone coming into the country to bring more blank tape.
I couldn't believe it. She had tricked me. Admittedly, she had tricked me into playing a part in the revolution, but still…. And come to think of it, the blank tapes were in my bag that was going to arrive at Prague Airport on a Swissair flight at noon the following day, and I was going to have to carry it through Customs.
3
By now it was almost 9 p.m., and time to get serious. Civic Forum had called a press conference in the world-famous Magic Lantern Theater, the Laterna Magika. It seemed a suitable forum for a playwright stepping onto a world stage. Like so many events of those days, it seemed stage-managed, but not exactly manipulative. It was as if Civic Forum were offering a different set of symbols to the familiar icons of Communism—the tank, the boot, the prison cell, the long line at the bakery. In fact, it was as if the contest were taking place not between two groups of humans or two opposing political forces but between two sets of symbols. It was almost like watching marionettes acting out an intense drama on a small but well-watched stage.
The atmosphere in the theater was tense but excited. Everyone was looking around; everyone half-expected the police vans to pull up, the baton charge to race across the road. At the door, I was asked to show my passport to prove I was not a member of the secret police sent to record or disrupt the proceedings.
The space was packed; more than 300 journalists were in the auditorium, not to mention supporters, ordinary Prague citizens—nobody, it seemed, was sleeping any more. (One of the journalists present was John Tagliabue of the New York Times, who a few weeks later would be shot in the back when he moved on to Romania, the next domino to fall.) On stage was a Civic Forum moderator, flanked by a student leader; a translator; Jiri Dienstbeer, a dissident journalist soon to become Foreign Minister; Vladimir Hanzel, a music critic;  and Havel himself, who, though dignified, wore his battered past on his sleeve: he seemed to be made of old corduroy.
The question-and-answer session was utterly different from the regimented mayhem of a White House press conference or the braying of the House of Commons.
"Would you say that Czechoslovakia is still a communist country," asked a French journalist, "or is it no longer a communist country?"
The Civic Forum moderator, a small man in a brown suit designed in 1958, grabbed the microphone. "Czechoslovakia has never been a communist country," he snapped.
Havel and the press played games. He knew they had to ask him questions he couldn't answer; they knew he couldn't answer them; he knew they knew, they knew he knew. As a playwright and actor, he discharged his role with suitable dramatic irony.
"How would you define your role in the revolution?" someone asked.
"I seem to have found myself in the middle of things," he observed dryly.
"I've seen badges saying `Havel for President,'" a British journalist asked. "Will you be the next President of Czechoslovakia?"
"I believe those badges were made in Hungary," he said, a smile playing around his lips. "My influence doesn't extend that far."
"Do you want to be President?" the journalist persisted.
"You can't have it both ways," Havel answered, to much merriment. "You would have me be President, yet you deny me the basic presidential right to answer in a roundabout way."
"Three weeks ago," another foreign journalist said, "you said that you expected to be arrested at any moment. When did things change?"
Havel smiled again. "In Czechoslovakia there is a saying: you should not praise the day before evening."
He seemed confident, and in front of the world's press he must have felt at his safest; yet later that evening one of the student leaders said on national television that he, for one, fully expected to be "accidentally" run down by a car any day.
By the time the press conference ended, it was 9:45 p.m. Outside it was chilly, barely ten degrees Fahrenheit, yet even so, more than a hundred people were crowded around the window of the Civic Forum offices, watching the videotape of the November 17 attacks over and over.
Marcela introduced me to Jurgen Serke, a German journalist she had just met, and we all went out for a meal and a beer. The atmosphere in the city was both peaceful and oddly gay, even a little giddy.
Serke told us that he had already written a column for his paper in Hamburg that Havel would be the next Czech president—in other words, the first non-communist president since 1948. His logic was romantic.
"He is a playwright, yes, but also an essayist and a poet. The first Czech president was Masaryk, who was a philosopher; the next president was a poet. It was be a continuity. Czechoslovakia is poetic."
Serke himself had a bizarre toehold in history, he told us, shoveling steak and chips into his mouth. (Czech cuisine and English cuisine share the same virtues, the same vices.) He was covering Czechoslovakia in 1968, and an official photograph was taken of him standing next to Ludvik Svoboda, the president, and Alexander Dubcek, the liberal-minded First Secretary of the Communist Party who ushered in the brief thaw known as the Prague Spring. After the Russian tanks were sent in to crush the opposition to Soviet dominance, the photograph was doctored, and years later Serke saw it again: Dubcek had been removed, but Serke himself was still there, too unimportant to deal with.
As we left the restaurant, he left us with a parting observation, which, as always, was tinted with irony.
"I'll know the Revolution is over," he said, "when I get a parking ticket. Time was, the police would pick on foreigners. You would hold out your passport with a ten-Deutschmark note in it. Now there are no police on the streets. I've been parking illegally ever since I got here two weeks ago."
It was true. The utter lack of police or military was contributing to the giddiness on the streets—yet at the same time, it was eerie. I didn't hear a police siren until I'd been in Prague for five days—and then, like everyone else, I turned quickly, expecting that the counter-offensive was beginning.
4
When the events of that first evening, which already seemed to have lasted forever, finally wound down shortly before midnight, Marcela walked me the three or four blocks to her mother's apartment.
Otilie, Marcela's mother, had managed to win one of those tiny, sad prizes in the lottery that was life under communist rule. The three-room apartment had been allocated to her and her husband as being officially the suitable size for a married couple—but when he died of heart failure a few years previously, some official had not done the paperwork (deliberately? Accidentally? One never knew) that would have downgraded her to a single room. As always, though, this prize came with an equal and opposite burden: now she was frightened that if she said the wrong thing in the wrong person's earshot, she would be evicted and punished for her good fortune.
As for the apartment itself, it was hard to see it as a windfall. The kitchen/bathroom was divided by a curtain to give privacy to someone using the shower or toilet, and as its window was three feet from the next apartment block, it was dark even at midday. The toilet needed fixing; the valve wouldn't shut off. The water in the kitchen sink was undrinkable, and the whole place smelled of paint, even though the building hadn't been painted for years. One of the light switches was faulty, and looked as though it might start a fire at any minute. Nothing got repaired because she didn't have a friend, or the son of a friend, to do it. To put in an official work order with the building superintendent was laughable folly. Everything in Czechoslovakia, Marcela explained, depended on connections.
Nothing worked, and everything depended on connections: oddly enough, I'd hear exactly the same set of complaints a decade later in India. It's not only communism that can cause a country's infrastructure to collapse.
Otilie was typical of the older generation of urban Czechs in that she was the soul of hospitality (pressing food and drink on me, pulling out her dead husband's pyjamas to see if they'll fit me) but my presence made her very anxious. Spies, she assumed, were everywhere: she was hesitant enough to have me sleeping on the couch, but she was adamant that I should not use the phone. Her husband would still be alive, she believed, had he not been arrested three or four times, held for questioning, subjected to the same routine of ingrained threat as everyone else.
She worried that the activists were just making things worse, that any minute now the reprisals would begin, and would be all the more brutal—yet at the same time she desperately wanted the revolution to succeed, to be the real thing, the final liberation that she and every Czech had been waiting for ever since the Germans invaded, fifty years previously. Like everyone else, she ran the Garman wartime occupation and the Russian postwar occupation together into a continuum of repression and misery.
"If these events are true," she said, through Marcela, "then I could speak. I could tell people what the regime has done to me. I would be fearless."
Everyone in Prague, it seemed, felt the same. When Marcela and I left the apartment next morning, the stately, gray city had a strangely scruffy, festive look that for a second I couldn't explain—and then I saw that every wall, every pillar and post, every booth and kiosk, was covered from about two to about six feet from the ground with pieces of paper.
Some of these were colorful advertisements and announcements, the kind you'd expect to see in any Western city with an active trade in guerilla postering. Most, though, were what the Czechs were calling "testaments" or "witnesses": they were single photocopied sheets of 8 1/2 x 11 paper, some white, some in color, with a paragraph or three of typing on them, on which anonymous people had done exactly what Otilie wanted to do: they had told the truth. They had written accounts of what the regime had done to them or their families. My husband was imprisoned without trial in 1955…. My husband disappeared five years ago…. My son was beaten by the police and has never walked since…. Every wall, as far as the eye could see, had turned into a bulletin board of protest.
Surrounded by this panorama of support, the people of Prague seemed buoyant. When I accidentally bumped into someone on the street and we both instinctively apologized, Marcela stared in amazement. When she was last in Prague, she said, she fell and dropped all her shopping, and everyone around her simply ignored her. Once she bumped into a man and he spun round and yelled, "Watch where you're going, you stupid cow!"
The only time we saw the old attitude was in the official Czech tourist bureau, where we went so I could change some money. There were no signs telling anyone where to go to do what, so Marcela went up to a woman at the front information desk. The woman was looking down at some papers on her desk. Marcela asked a question. The woman didn't look up, didn't even acknowledge she'd heard anything. Marcela tried again, even more politely. No response. It was a remarkably chilling experience, to feel so completely ignored, to feel the invisible threads of common humanity so severed. After four or five attempts, Marcela gave up.
"It used to be like that everywhere, all the time," she told me.
Next we had to go to the Foreign Journalists Center so I could get press credentials. It was the classic tiny, dark office I'd read about in Cold War novels by John Le Carre. In one corner was a teletype machine and a stack of official press releases, out of date and irrelevant. Two small, dusty bureaucrats stared at me from behind glass. As I held out my passport and the complicated, poorly-translated form I'd labored to complete, I assumed they'd grill me, put me under surveillance so they could see who was talking to me. Not at all: they only thing they showed any interest in was my $15 fee. Nobody would ever ask to see my stamped press pass. In theory I was supposed to register with the police, too, but in a rare moment of bravado, I decided not to bother.
In truth, I had bigger worries on my mind. Some time around midday, the Swissair flight with my delayed baggage was supposed to arrive at Prague airport, and I'd have to explain to Czech Customs which I was carrying a primeval computer and another dozen illicit blank videotapes.
We took a taxi to the airport. The Swissair desk—colorful, neutral—were on top of the situation, but didn't have my bag: they had switched it to an earlier flight on  Ceskoslovenske Aerolinie (you can do the translation) and it was probably already waiting for me, right over there at Customs. They handed me a small chit with a baggage number on it.
I crossed the terminal with my heart pounding in my ears. Keep calm, I told myself. Don't radiate panic. Don't draw attention to yourself.
I was starting to wish I had some training in this kind of thing–a lifetime's experience in drug trafficking, maybe.
To my surprise and confusion, the Customs area was abandoned. There wasn't even anyone to ignore me. It was just like the scene at the border: the soldiers, the guns, the dogs—vanished. All that was left was an untidy heap of luggage on the floor—and, astoundingly, my bag was among it.
What should I do? Marcela, too, was frozen. We looked around. Were we being observed from behind a pillar? On camera? Should she separate herself from me so only one of us got caught?
The airport, the city, the whole country seemed to be caught in a bizarre moment in history, a moment that, for the first time in decades, lacked menace—and yet seemed all the more menacing for that weird and unexpected absence.
Eventually, I did the thing that everyone was just working up the courage to do. I thought, "Well…," bent down, picked up my bag, and, trying to look as though nothing was wrong, as if nobody was watching, as if this was what was entirely business as usual, walked out of the airport.
5
So far I had been doing surprisingly well on item number one of my agenda in Prague: avoid being arrested or shot, but I had done absolutely nothing about item number two: earn a living as a journalist.
Remember, I had no money and no assignment, and I had to earn back the cost of getting to Czechoslovakia by writing freelance articles for the Rutland Herald or freelance pieces for National Public Radio.
The (barely) portable computer the Herald had lent me, a Jurassic TRS-80 the size and weight of four bricks, arrived intact with my luggage, and immediately proved its uselessness. In those days, computers didn't have built-in high-speed modems or Ethernet connections. They had rubber caps called audiocouples that fitted over the mouthpiece of the phone, and when you pressed Send they emitted a high-speed twitter of gibberish, sounding rather like a fax machine. Here was the problem: the TRS-80's audiocouple was square. The mouthpieces of the phones in Prague were round.
Fact was, I was out of my depth in the technology of international journalism. Not only was I struggling even to write print material, the radio stuff was way out of my league. I had a top-of-the-line Sony TCS-5000, a great stereo recorder, but no idea how to use it, and even less idea of what to do with the audio product once I'd recorded it. My plan was to find the other members of the NPR press contingent in Prague and ask them, but until the next mass demonstration took place, how would I find them?
Well, I could call collect to NPR and ask.
Otilie, Marcela's mother, was still terrified of my using her phone in case the secret police were listening in, so I needed a public phone. And the public phones were all at the Post Office.
The Post Office was stately, large, clean and yet had that communist-era quality of surveillance. Instead of simply being able to go into a little booth and make a call, you had to go to a desk where a woman looked you up and down suspiciously, and give her the number you wanted to call. She wrote it down, gestured to you to take a seat, presumably called the secret police to let them know what number you were calling, then if you passed as clean she put the call through to one of a row of numbered cubicles and told you which one. Calling collect added yet another layer of complication, of suspicion.
Given that I still spoke only one word of Czech—pivo, meaning "beer"—I was pretty proud of myself for getting through all this and actually hearing the executive producer of Morning Edition on the line rather than, say, Mikhail Gorbachev. But at once a different kind of political game started up. I wanted to know where Deborah Amos and the NPR news team was; my producer wanted to know what was going on in Prague. I protested that I'd arrived just the previous evening, that I hadn't interviewed Havel or student leaders or even the Czech on the Street, to no avail. This was my first education in the truth of international newsgathering, and frankly of newsgathering in general: nobody knows much of anything, but they have to say something.
She grilled me for an hour and three-quarters. An hour and three-quarters! From abroad! Collect! No wonder NPR had to do fundraisers. Eventually she was satisfied that she had plumbed the full depths of my ignorance and allowed as how the NPR news crew was staying at the Hotel Ungeld—a word that can literally be translated as "no money."
Marcela and I went over to the Ungeld, which, like everything else in the center of Prague, was within easy walking distance through a delightful series of graceful, open squares and nooky, cranny alleys. The NPR crew was out, presumably interviewing student leaders, Havel, the Czech on the Street, and so on. My sense of utter inadequacy returned.
All the same, an event was coming up that evening that looked very, very promising: an "improvisation" at the National Theatre.
"You must see one of the `improvisations,'" Marcela insisted.
"Um…I'm not very keen on improv," I said.
"They're not that kind of improvisation," she explained.
The word was essentially a kind of code. The Czechs love theater, and art in general, to a degree that makes even arty New Yorkers seem as boorish as dogfight enthusiasts. One of the major blows against the government was that since November 18 all the theaters, art galleries and museums had been on strike. On strike, but not exactly closed: they had become focal points for performances, satires, organizational meetings, press conferences like the one I'd been to the previous evening, lectures, and opportunities for long-silent Czechs to speak out about the abuse they'd suffered at the hands of the secret police. At the same time, actors had been going on unofficial tour all round the country to get out the word and rally support, their familiar faces a valuable means of counteracting the fact that state-run TV and radio were still busily giving the party line. And all these activities fell under the heading of "improvisations," partly because they were, indeed, being improvised, but also because the Civic Forum leaders knew that if the government tried to do something as un-Czech as shutting down a theatrical improvisation, there'd be real trouble.
We got to the National Theatre (an edifice so grand it makes Lincoln Center look like a massive cinder-block) at 7:30, just when the performance was about to start. The ushers greeted us with the universal shush-and-frown, but when Marcela tried to explain that we had no tickets they simply shook their heads, led us up a carpeted stairway and showed us in through a tiny door to what must have been the Presidential box. We were about ten feet from the stage.
Every velvet seat in the hall was packed with Czechs in ordinary clothes street clothes, clothes for revolution. Onstage, one of the country's most popular actresses was interviewing a dissident economist on the nature of market economy. (Again, I challenge you to try imagining that in the U.S.) "The incentive of competition," he said, "is crucial. Without changes in our economy, everything that has happened so far is merely cosmetic."
The world needs to hear this, I thought, and dug out my Sony, my cables and my mike.
The one piece of advice I'd been given by my radio friends was to practice with my equipment before I actually had to use it. Needless to say, I'd done no such thing.  As a series of actors read poems that had been sent in to Civic Forum by ordinary Czechs as a gesture of support, I plugged in the mike, pointed it at the stage from my vantage point, and pressed Record.
Nothing happened. I turned up the recording levels. To my horror, only one channel was picking up sound. I unplugged everything, reset the Dolby button and tried again. No difference. World-famous writers were talking about their time in prison and I was pounding every control and button on the machine. Still nothing, though the mike started to slide off the velveted balcony and I only managed to catch it by grabbing at the cable as it vanished from sight.
This went on for twenty minutes of panic until I remembered that it wasn't a stereo mike. It was only supposed to work on one channel.
By now two doctors were on stage, talking about the hospital where they worked—a state-of-the-science institution staffed by people trained in the U.S. that was reserved only for high party officials. Straining to pick up what they were saying (despite the fact that I wasn't convinced of the value to NPR of discussion in Czech), I turned up my recording level to max and delivered not one but four shattering blasts of feedback.
As a climax, the national chorus played excerpts from Beethoven's Fidelio, including the aptly-chosen Song of the Choir of Prisoners: "Quiet! Quiet! Even the walls can betray you!" By now I had more or less got the knack of recording, and nobody had glared at me for a good twenty minutes. Then the entire auditorium, plus actors, plus chorus, rose to sing the National Anthem, victory signs held high. I caught it on tape, and after three days and many adventures to be recounted in subsequent episodes of this story, I got it fed back to Washington.
My producer was so pleased he even had me rewrite my commentary so he could include the live sound.
I felt like the leader of a zoological expedition to darkest Borneo that had spent a year in the jungles, spent a million dollars of taxpayers' money, and had brought back one small dead frog, which my museum had promptly exhibited in its own glass case. Anything that had taken so much to collect had, just had to be put on display.
6
In Prague, things were changing by the day, even by the hour. By Saturday morning, bus drivers had started putting tiny tricolora flags on their dashboard. Other people were sewing it on their lapels or clothing, like a medal ribbon. Otilie, Marcela's mother, was finally allowing herself to be excited. She had a whispered conversation in the tiny front hall of her tiny flat, and came back chuckling conspiratorially. "The postwoman was wearing the tricolora," she announced.
Word had spread in the usual mouth-to-ear fashion that another major demonstration was happening in Wenceslas Square, so we hurried over. I was clutching my small bag of audio recording equipment, partly in the hope of gathering some sound actualities (this, I'd discovered, was the terminology of the trade), and partly in the hope that I'd see other people standing on tiptoe and pointing microphones at the gathered masses. If I did, they might be the NPR crew. I still hadn't managed to find them. Every time I went to the Hotel Ungeld, I was told they had dashed off to this factory or that barracks, gathering sound actualities by the dozen. The hundred. My heart sank. They probably even had those fluffy wind-muffs that fitted over their mikes. I felt like an utter fraud.
The demonstration, though, was utterly amazing, perhaps even unique in the history of demonstrations. Word on the street was that a delegation from Portugal had arrived with 50,000 roses. A couple of weeks earlier, of course, these would have probably been confiscated at the border under the pretext that they contravened anti-greenfly regulations, but now they had arrived and were being passed out to anyone who wanted to march.
This was the first demonstration I'd seen in Prague, but by no means the first demonstration I'd seen in my life, and when the marchers shuffled into Wenceslas Square, filling it and pressing up to the great statue of Saint (or, as we call him, Good King) Wenceslas, I found myself simultaneously excited and bored. A succession of speakers stood up under the hooves of Wenceslas' horse and made unrehearsed and rather stumbling speeches. The delegate from Portugal gave a call for a "united Europe," which rather confused and stunned people who were still thinking in the rather more immediate terms of getting out of the USSR and the Warsaw Pact.
But then someone called out a phrase that presumably was the Czech for "Hold up your roses!" and the entire scene was transformed. It was another of those pieces of theater that characterized the Velvet Revolution, though it's hard to see how the organizers could have imagined beforehand exactly how it would play on stage. As 50,000 people, massed on the cobblestones of the ancient square, held up their red roses, everyone lining the shops and apartment balconies saw something amazing: the square had turned into a field of flowers in bloom.
The demonstrators were half-unseen beneath the petals and greenery, and suddenly the moment stopped being cerebral (after all, what is more cerebral than a sea of heads?) and became something organic, surprising, hopeful. It was the return of the Prague Spring, but thirty years later and in December.
As the demonstration was breaking up and dispersing, and I was hopping around on the sidewalk fringes looking for fluffy wind-muffs, an American voice called, "Are you from NPR?"
Marcela and I turned to see a tall guy, perhaps in his late thirties, with that Ivy League seen-in-all-before slightly bored look. "Well, sort of," I said. "Are you?"
It turned out that he was looking for the NPR team as well, but for a different reason. His name was—well, he's still working and in the public eye, so I'll call him Chris Claude. He was the first member of the international press corps I'd ever met. He announced that he had just flown in from Hungary, where despite not knowing a word of Hungarian he had managed to interview everyone important and file half-a-dozen stories, and he wanted to sell some of them to NPR.
It took him all of ten seconds to size me up and realize I was useless to him, but Marcela, on the other hand, was priceless: she spoke Czech, she had connections in Prague, she even knew opposition figures—in two minutes we were in the Hotel Intercontinental drinking coffee and listening to how wonderful he was. Over the past three months he had been in all the countries of the collapsing Soviet Union and eaten bad food in all of them. He was doing this long piece for an L.A. paper and this major piece for a radio station in L.A. and this other piece for the CBC, and Vaclav Havel's New York publisher was a personal friend of his.
His main specialty, though, was art stories, and he extracted from Marcela the fact that she knew painters and sculptors and videographers and people working in the famous animation studios. Before the coffee-cups were empty he had in effect stolen her from me and extracted a promise that she would act as his translator and introduce him to the Prague art monde.
Marcela, brisk and to the point, brought up the subject of payment. He looked disgusted, sighed, and shrugged. He could only pay a pittance, really. Barely worth it. Still, if she didn't want to help him, he had a dozen other contacts in Prague….
They settled on a $100 seek-and-translate fee. True to her word, Marcela spent the next few hours finding him representatives of the avant-garde in film, theater and painting, people of national stature, and setting up interviews for two days hence.
"Not until then?" he asked, dismayed.
"They're all involved in preparations for the strike on Monday," Marcela explained, a little indignantly, " and they're also exhausted."
He looked disgusted all over again.
As it happened, I went along with him a couple of nights later on one of the interviews Marcela had set up. The subject was Dr Lutwig Svab, one of a group of surrealist painter-poets who had been active in Prague since the Thirties. Finding his apartment was like finding Harry Lime in The Third Man. Marcela and I took a tram, then had to ask directions and set off on foot. It began to snow lightly, like a dusting of confectioner's sugar being shaken in slow motion. We passed through a series of sidewalk tunnels, where the scaffolding that was shoring up old buildings had acquired a seniority that bordered on permanence. We asked again, and set off even farther away from any main road. No cars moved. Only one or two were in evidence, and each one was noticeably parked right under one of the rare streetlights.  Instead of Third Man Gray, the buildings were made of a quiet sandstone that reminded me of Oxford. Finally we found the right street, but it had two sets of numbers—not unusual in a city that had been under a series of different occupations for much of the past 400 years. Dr Svab's building actually had no number at all, but by much pacing up and down the dark street, adding and subtracting, we found his name under a doorbell and rang it.
He called us up, and we ascended a series of narrow, dark staircases around a small courtyard that reminded me even more of the most medieval of the Oxford colleges. His room was filled with the debris of the sedentary omnivore. Records, cassette tapes, papers and books covered every horizontal surface, including the shelves of several ancient bookcases, the narrow bed, the small table, the beaten-into-submission armchairs, the enormous television (which had its own graphic equalizer—where did that come from??), and much of the floor. A stack of plastic cups and a pile of empty coffee cans defied gravity; paintbrushes stuck out of a Pilsener Urquell can. Paintings and frames stood or hung in every vertical space, but the piles of papers had grown so tall and the stacks of paintings had leaned so far that none of the horizontals were horizontal and none of the verticals were vertical. The room looked like the complete geology of human endeavor: the pressures of mind against material over time had created these exposed strata of intellect.
His paintings were clearly from the golden age of surrealism, which, as a theory of art, somehow seemed perfectly home in this room, this city, this now-declining political climate. One was a desert scene in which a bulldozer with fingers for grabs clawed at the soil; in another, bird-heads watched a human face on a fork.
An archtop guitar with a small pickup taped against the bridge, lay on the bed. "I have been playing with a small group since the war," Dr. Svab said in English, meaning World War II. I asked him whether he, like me, was a fan of Django Reinhardt. "He was my hero," he said, "especially during the war."
At this point the doorbell rang again, and the odious Chris Claude oozed in. Marcela excused herself and left. Dr Svab pronounced himself ready to talk, I set up my tape recorder and mike, rather precariously, on the small table, and allowed Claude to ask the first questions.
Dr Svab talked with his eyes almost shut, with just a slit of white showing; he could have been blind. Yet the answers he gave were disappointing: he summarized this artistic theory and that group of painters as if he had said it all a thousand times before. After a while, I turned to see what Clause was making of all this. To my astonishment, he had fallen asleep.
At this point I decided two things: one, that the conversation was now mine to take wherever I liked, and two, that what I liked most about surrealism was its sense of humor. I asked Dr Svab about this.
He chuckled, and told a very Czech surrealist joke. A few days ago, he said, one of the Civic Forum dissidents arrived at Prague airport to join his comrades in  the struggle.
"I just got out of jail this morning," he cried enthusiastically.
"Really?" one of the others asked him. "What did you have for breakfast?"
When the conversation lapsed, I packed up my equipment. The commotion woke up Claude, who barely apologized for his behavior. As he and I were walking down the dark, narrow stairs, he said, "He's not really an important artist, anyway."
Back to Saturday again. I had an article due for the Rutland Herald, and spent the afternoon working on it in possibly the most frustrating way any writer has ever worked on any story.
As you may remember, part of my state-of-the-art equipment was what passed in 1989 for a laptop computer, a Radio Shack TRS-80. The beast was about the size and weight of an encyclopedia, but despite that had a screen that showed no more than six lines of text. Writing anything longer than a paragraph, then, was quite a feat. Editing it, though, was far harder. It required considerable feats of memory or a vast amount of scrolling up and down, and writing and editing a 30" newspaper story involved literally hours of looking for the places where cut sentences or paragraphs should be pasted.
I'd been through this ordeal twice already, but now two extra dimensions were added. Three days of notes and story drafts, it turned out, had flooded the computer, which had the memory capacity of an absent-minded goldfish. To my horror I discovered that if I cut a paragraph, the act of retaining those couple of dozen words in its pitiful consciousness used up all the beast's remaining memory, and it couldn't then retrieve them. In other words, it would cut but it wouldn't paste.
I lost three paragraphs this way before realizing what was going on, and finally the full weight of the problem struck me. Because the TRS-80's audiocouple didn't work on Czech phones, I had to dictate each story—but in this case, I had to edit it while I dictated it.
For the next 90 minutes I sat on Otilie's floor and dictated paragraphs to the editorial assistant in Rutland, who copied them down and then asked me where they should go. "Stick that after the paragraph about the roses and read it back to me," I asked. She cut, pasted, and read.
"Okay, that'll work if we also add another bit I've got father down," I went on. "Hang on a minute… Okay, here it is."
It was like stamp collecting for the blind. Every sentence had to be dictated, its location guessed, read back with whatever text seemed to precede and follow it, and then likely as not it had to be rewritten or moved. Probably no story in the history of Vermont journalism has been written so inefficiently, or has involved so much cursing.
Yet in a moment, everything changed. Otilie turned on the 7:30 television news and we heard that Husak, the country's communist president, was resigning.
Marcela and Otilie couldn't believe it. They sat on the couch holding each other as the details piled up. All over the country, the newscaster said (on this, the state-run channel), factory workers had voted to outlaw politically-based trade unions and were going to elect new, non-communist unions. The East German Communist party had decided to find a new name for itself. Political prisoners were rioting in Poland. The Baltic republics had voted to throw out the notorious "communist only" paragraph from their constitutions. The Western European nations had announced a plan to start a bank to support the reconstruction and conversion of the economies of Eastern Europe. And earlier that day, 10,000 Czech tourists had flooded through the now-open border into Austria. Otilie and Marcela fell back on the couch, laughing and crying, in each other's arms.
I stayed in Czechoslovakia another four days, a time of more demonstrations that now seemed more like celebrations, of Havel being chosen as the country's next president, of general euphoria.
At the same time, though, the more thoughtful Czechs—and no country has ever seemed as full of thoughtful people as Czechoslovakia did that week—were already worrying about the future. Even while the radical economists were preaching the value of market capitalism, they were also aware that foreign interests, especially from Germany and Austria, were moving into Prague to try to buy up the rent-controlled apartments at fire-sale prices. Shady merchants from Poland and Romania turned up in the city's calm squares with barrows of cheap Western junk. The city's streets and alleys, which for the past four decades had been virtually crime-free, were already seeing their first thieves, and beggars, unknown under communism, were already appearing on street corners. I walked through the Old Square past the medieval shops whose signs simply read, for example, Knihy—"books"–and wondered how long it would be before those windows would be obliterated by ads for cheap film and expensive fountain pens—the Borderization of Prague.
At the same time, the long, long, expensive job of cleaning up forty years of environmental devastation lay ahead. On Monday a vast, shiny Greenpeace bus parked in Wenceslas Square (which suddenly looked no longer like the city's cobbled heart but a vast parking lot) and started doing a roaring trade in petitions and posters.
The Czechs had, to their own astonishment, exchanged the problems of oppression for the problems of freedom. From now on, the Civic Forum leaders knew all too well, they'd have nobody to blame but themselves.