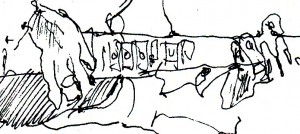 ("Hooker's Hands," pen and ink by Roy Newton, quietpond@aol.com)
The Greatest Guitarist in the History of the World
For several years, I've been working on a sequel to my book Guitar: An American Life, to be entitled The Greatest Guitarist in the History of the World.
Needless to say, this is the kind of title that gets people leaping to their feet and reaching for blunt instruments, or at least rolled-up copies of Rolling Stone.
What I have in mind, though, is to go beyond rabid, name-yelling fanaticism (attractive though that is) and into a variety of unexpected and thought-provoking ways of approaching the issue.
What does "greatest" mean, anyway? Let's break it down a bit. Who, for example, is the most influential guitarist? The loudest? The most courageous? The most imitated? The fastest? The one who sold the most guitars?
And I'll also be examining some curious concepts. Why is it that we expect our great violinists to be interpreters, but we expect our great guitarists to be composers or even improvisers? Is a great guitarist one who masters and exemplifies an idiom or tradition—or one who starts a new idiom or tradition? If you play expressively with an electric guitar, are you really playing expressively not with an instrument but with an amplifier and a series of effects? Once you've seen someone play with his or her fingers—Paco de Lucia, for example, or Dominic Frasca–can anyone who plays with a pick really be taken seriously? Does Django get double points for playing with only two fingers?
Over the next few months, on the evenings when I'm trying to avoid jamming a sharp carving tool into my left hand, severing tendons and ending my modest guitar career, I'll be putting together a few fragments from The Greatest Guitarist in the History of the World and posting them here so you can sink your fangs into them, toss them in the air and shred them to tiny pieces.
If you'd like to be notified as The Greatest Guitarist in the History of the World approaches real, live, on-paper publication, please use the Subscribe option.
The Greatest Guitarist blog archive
The Most Influential Guitarist
Gallery
Many of you have asked to see photos of the completed Running Dog Guitar made for me by Rick Davis. To check them out, click here.