As you approach Tahlequah, Oklahoma, a modest burg of some 15,000 souls situated 60 miles east of Tulsa in gently rolling woodland and farming country, the signage on the town line proclaims that Tahlequah has been chosen as the Best Small Town in Oklahoma and the 55th Best in the United States. What it doesn't say is that Tahlequah is the only town on Earth where you can find street names, business signs, notices and even newspaper articles in Cherokee.
According to the U.S. Census, more than 25% of the population of Tahlequah (pronounced with the stress on the first syllable, tah-la-quah) is ethnic American Indian. Although the Census doesn't ask respondents to specify to which Indian nation they belong, we can take it for granted that a majority of that 25% will be Cherokee, because Tahlequah is home to the headquarters of the Cherokee Nation and the greatest concentration of ethnic Cherokee in the United States. This is, literally as well as figuratively, Cherokee County, U.S.A.
The heart of the town, lying in a slight bowl, consists of three sections of Muskogee Avenue, which runs north-south. The larger by far, lying to the south, is a thoroughly routine strip of big-box stores, gas stations, retail franchises and fast-food joints. You could drive through this section without seeing a single clue to the presence of Cherokee, the people or the language. Nor at the northern end of Muskogee, where the main drag runs into the campus of Northwestern State University, with its standard landscape of dorms, teaching buildings, parking lots and stadium.
Between the two, though, Muskogee runs through a slender seven-block strip dubbed Historic Downtown, kitted out with faux-vintage streetlamps, and here, as you're looking around to get your bearings, you'll notice something unique. The streets, named after Native American tribes—Shawnee, Delaware, Muskogee, Keetoowah, Choctaw—have their new green signs painted not only with their names but also with a sequence of curious symbols. Some of them look like familiar English letters, some look like fragments of or variations on English letters (half an A, a 4 with an added O), and some are entirely unfamiliar, but all in all they certainly don't spell out anything you can read. These are the street names in Cherokee.
Once you start looking more carefully, you may see that the Post Office has its name in both English and Cherokee. Wheelchair access and tobacco-free signs around the old courthouse are also in both languages, and the front window of the Bank of America has an entire screed in Cherokee.
Yet eventually you'll stop to wonder about something. These signs, no matter how visible, are not functional. Instructions that people might actually need to follow (the Post Office's hours of opening, for example) are in English only. In other words, whoever painted these signs didn't expect anyone to be able to read them.
This is, in fact, not surprising, because even among the Cherokee, very, very few can still read and write their own language. So what are the signs doing there? And what is the current state of Cherokee, a linguistic invention so remarkable that its creator is now one of two Oklahomans to have their statues in the Capitol in Washington, D.C.?
More to come….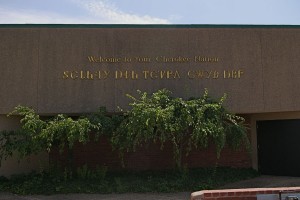 The frontage of the headquarters of the Cherokee Nation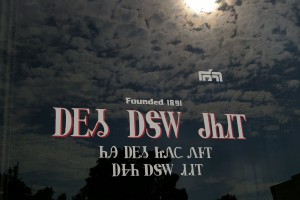 The front window of the Bank of America in downtown Tahlequah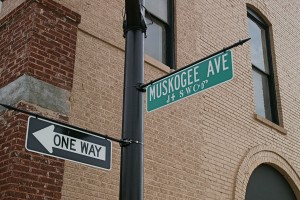 Several of the street signs in the historic downtown district are in both English and Cherokee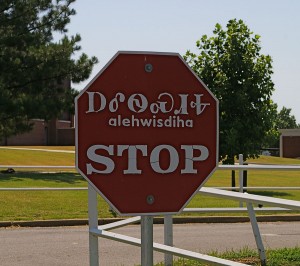 One of the rare occasions when Cherokee is presented not only in the Cherokee syllabary but also in phonetic form in the Latin alphabet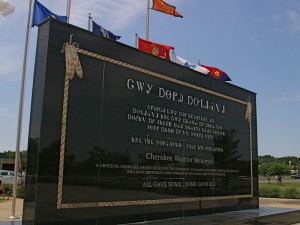 The Cherokee Warrior Memorial