Duo Vermont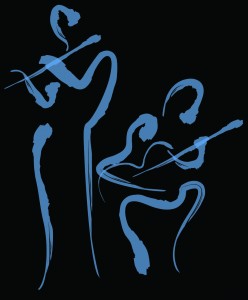 DuoVermont—Barbara Boutsikaris and Tim Brookes—is a flute-and-guitar duo with 15 years of experience playing weddings, commitment ceremonies and similar functions all over Vermont.
We've played Catholic weddings, Jewish weddings, Episcopalian weddings, non-denominational weddings, weddings on hillsides in southern Vermont, weddings in inns and on the shores of Lake Champlain and on the summit of Mount Mansfield. We've played for wedding parties of ten people and 150 people, and time and again we've been complimented on the suitability of our selections and the quality of our playing.
Our repertoire covers more than 350 years of music, and we're equally at home playing music for the ceremony and for the cocktail hour afterwards. Barbara has been a member of the Vermont Symphony Orchestra since 1989 and Tim has been playing guitar professionally for more than 25 years.
DuoVermont has been featured on National Public Radio, and we can be heard by visiting http://www.npr.org/templates/story/story.php?storyId=4671163 and clicking on "Arioso" halfway down the left-hand sidebar. We're also happy to meet potential clients in person, to discuss requests and to play samples of music for your consideration.
We can also be hired as a trio with our friend Victoria Drew, a professional soprano with two degrees in voice, a wide range of operatic and dramatic experience and the ability to sing in French, German, Italian and Latin!
Contact us at duovermont@gmail.com.