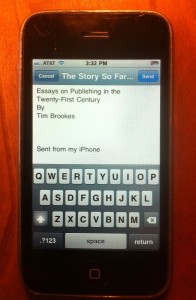 You'll know the revolution is here, Marx said, when the workers take over the means of production. Well, with the rise of the internet and the advent of on-demand digital printing, the workers–in this case, the writers–have taken over the means of production–that is, publishing. But what does that mean for the future of writing, publishing, media, communications, the written word, the human brain?
Since founding the Champlain College Publishing Initiative, it has been my job to leap headlong, with my students, into the lake in which these questions thrash around like wild eels. The result has been essays with titles such as "The Detroit of the Printed Word" (my term for New York book publishing), "Flash Gordon Was Wrong," and "The Carbon Footprint of a Sasquatch." Only time will tell whether I'm a prescient genius or dead wrong on all counts, but the titles, at least, are certainly works of art that will stand the test of eternity. Essential reading for anyone interested in the increasingly-rapid evolution of writing and publishing.
To order, click here.