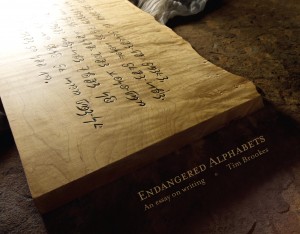 Of all the books I might have expected to write in my lifetime, this is the least likely. Linguistics? Anthropology? Carving? Artwork? Were there any subjects about which I knew less?
Yet this is already one of my most successful books, with orders coming in from all over the world. The plot is this: discovering that one-third of the world's writing systems (in other words, scripts or alphabets) are in danger of extinction, I decided to carve a number of them (a number that turned out to be fifteen) in boards of beautiful Vermont maple so they'd preserve and draw attention to these vanishing scripts. As I was carving them, I began to notice, question and then understand some remarkable aspects of the nature of writing itself. The book, then, is both an explanatory catalogue to the exhibition and an essay on writing itself, and its relationship to anthropology, culture, technology, aesthetics, even the bones of the human wrist.
To find out more about the project and to order the book, click here.