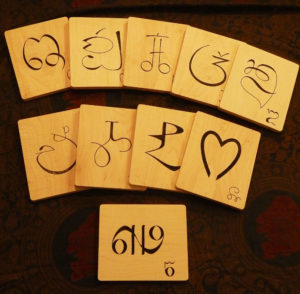 Here we go—the Endangered Alphabets Game Kickstarter campaign is now live at https://www.kickstarter.com/projects/1496420787/endangered-alphabet-games!
I must admit, I'm kicking myself that it has taken me seven years to realize that one of the best ways to revive an endangered language, written or spoken, is by creating games.
But here we are now, and this Kickstarter is to fund the creation of what I hope is the first of a series of alphabet games designed to reintroduce kids (and adults) in indigenous and minority cultures to their own traditional forms of writing.
The what, the why and the how are explained on the Kickstarter page. For the moment I'm just bringing this new project to your attention and urging you to check it out, to back us, and to pass the link on to anyone and everyone else you know who might be interested.
Thanks!
Tim Brookes
Founder, the Endangered Alphabets Project
P.S. This is going to be a shorter campaign than most—a little over three weeks—and I am pledging to send out fewer bulletins, updates, urgent begging letters and other symptoms of anxiety. Of course, that resolution will last only as long as the support keeps coming in….