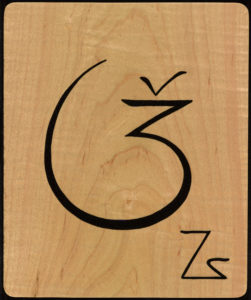 COMING SOON: my Kickstarter to raise money to create board games in endangered alphabets for indigenous kids.
The image in this photo is one of my series of faux-Scrabble tiles, in Sundanese, from western Java. The tiles were recently on display at the LocWorld34 conference in Barcelona and at Mundolingua in Paris–a big hit.
Seriously, in about a week I'll be setting off on another fundraising adventure to raise $7,500 to design (in consultation with adults and children from indigenous communities), create, publish and ship board games that help children and adults learn or re-learn their traditional scripts, while having fun. I mean, why not?
Please share this and my steady stream of updates with absolutely everyone you know who might be interested.
Oh, and these tiles, like the one in this photo but from other endangered writing systems all over the planet, will be among the rewards in this Kickstarter.