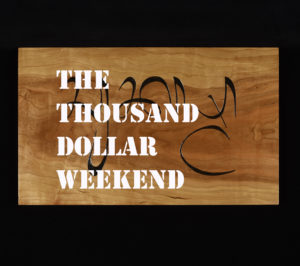 So far the Thousand Dollar Weekend is thundering along, with more than $500 raised thanks to Paul Ledak, Candace Uhlmeyer, Bill Schubart, Ned Castle, Bill Everett, Mirjam Vellinga, Joanne Doyle, Victoria Bland, Carolyn Ives, mflgrmp, Jen Finley, and L W Brown. To all of you, thank you so much.
Now we need to take that momentum into Day Two.
If you haven't backed our project yet, please do so HERE, or by heading over to https://www.kickstarter.com/projects/1496420787/the-right-to-read-the-right-to-write/.
If you have, please stay engaged. If you can spread the word and pull others into the circle of the Endangered Alphabets, this momentum won't slow down. We still have a long way to go, and not much time to get there. Let's get to that $1,000 goal today and drive on from there.
Thanks so much.
Tim