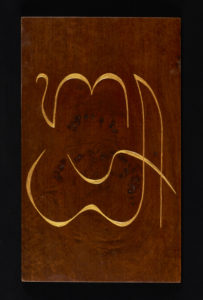 Wow. Our last new Kickstarter reward, the Balinese "Om and shanti" carving, was on offer for barely 15 minutes before it was snapped up.
Still slightly breathless from the experience, I went into the vaults and brought up just one more carving, also from my Balinese Period.
There's nothing like this in English: it's not, strictly speaking, even a letter. It signifies that the piece of text that follows is sacred or spiritual writing, and as such it advises the reader to adopt a particular openness of heart when reading. It says something about our culture that we don't understand the need for such a written device.
It struck me that carving this character, and thus converting it from two dimensions to three, implies a metaphorical change: especially if hung on a door, perhaps, it might mean "You are entering a sacred space."
Carved in an unknown wood with pockets of burl, between and around which the lines flow like grace.
Again, just the one is available, at the $375 level. Go to https://www.kickstarter.com/projects/1496420787/the-right-to-read-the-right-to-write to back us and earn it as your reward.
Continuing thanks to Artemis Walsh, the fine documentary filmmaker Helen Donnelly, and Charles Pryor for backing the Kickstarter.
In other news, a wonderful segment on Everwideningcircles.com was devoted to the Alphabets. Check it out HERE.
Please share this post. And please give whatever you can to this campaign, which is vital for our continuing work.
Thanks.