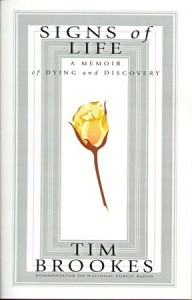 Every author hopes–dreams, really–that one day a publisher will put out a second edition of one of his or her books.
It's not just a sign of respect, or of potential income. It's a chance to fix the inevitable mistakes that slipped in the first time around, and a chance to reattach the book to the passing freight train of time. Just because you stop working on a book doesn't mean the subject doesn't keep growing and changing, and it's always sad to see one's work being nibbled away at the corners when the majority of it still holds true.
Signs of Life has always been one of my favorite books, and I'm delighted to pass on two pieces of news.
The first is that is has been reissued by a Canadian publisher, West Lake Publishing, with commentary by the great hospice pioneer Dr. Balfour Mount. This new, improved and updated second edition is now available right here. (That's right–click on the word "here.") I know I'm biased, but from what I've been told time and again, anyone who is experiencing the loss of a close friend or family member will benefit from reading it.
The second piece of good news is that a non-profit in New Bedford, Mass called Coastline Elderly Services has invited me to read from Signs of Life and talk about end-of-life care at their annual "Caregiver's Night Out," so I'll be in Massachusetts on Wednesday, November 7th. I hope you'll show up if you're interested. Specific details, such as time and directions, will show up here soon. In the meantime, feel free to contact me with questions.
Tim